With about 1.4 billion social media accounts getting hacked every month, changing and protecting passwords is now more important than ever!
To minimize such incidents, II experts recommend you change the security code for social accounts every now and then. This blog will show how you can do that in 1 minute either using the LinkedIn website or mobile application.
Also, if you have forgotten what is my LinkedIn password and want to access your profile, we have listed all steps need to reset the login code.
Stay tuned till end as you will get to know how to find LinkedIn password settings and make a strong secret code to fool proof your profile security.
Related: How to Hide your LinkedIn 
Video: How to Change LinkedIn Password
How to Reset LinkedIn Password
LinkedIn Password Change On Desktop Site
Open your account settings. First, click on Me button at top and go to Settings & Privacy from the dropped menu.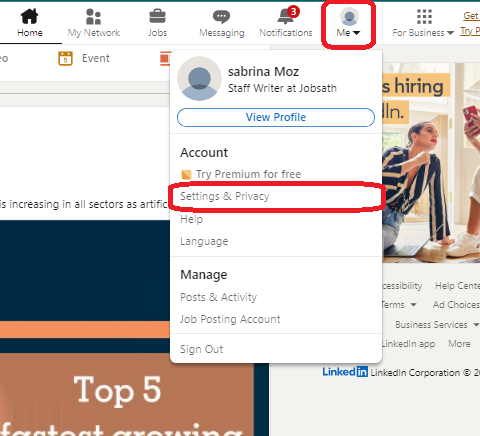 3. Open section and click on Change Password.
4. Enter the current and new passwords. According to LinkedIn password requirements, your code should be at least 8 characters long.
5. Click Save Password.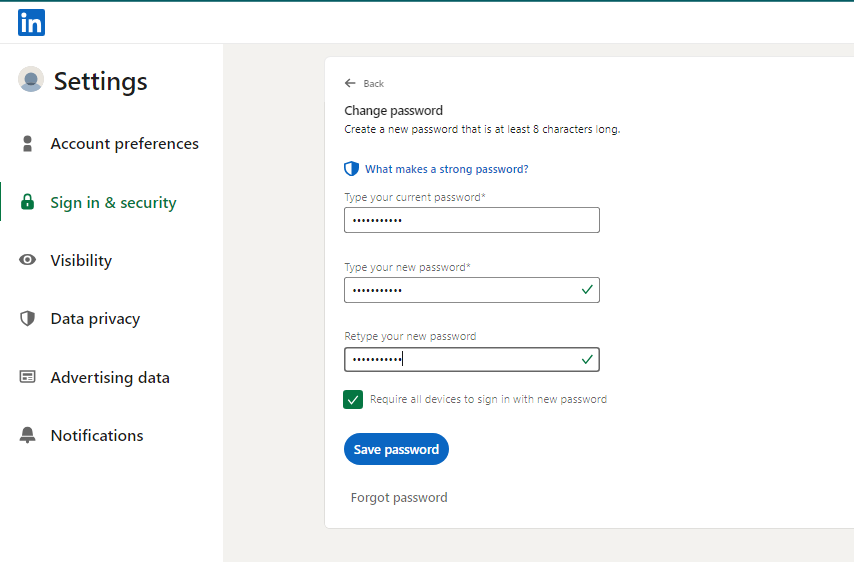 Related: LinkedIn grade gpa
LinkedIn Password Reset On Mobile Browser
Tap on the profile picture to open navigation side-bar.
Hit the Settings icon.
Open Sign in & Security tab and go for the Change Password option.
Verify the current password and set the new one. Tap on Save Password.
Change LinkedIn Password On App
Besides the website version, changing LinkedIn password is also possible from mobile application as explained below;
Reset LinkedIn Password from iPhone
Tap at the Profile picture, a tab with settings option would slide in form the left.
Open Settings and go to Sign in & Security.
Select Change Password.
Enter the current and new passwords and hit Save Password.
LinkedIn Password In the App Android
To Update LinkedIn Password on Android application, use the same method as for iOS devices. (steps given in the section above)
Forgot My LinkedIn Password, How to Recover?
If you forgot LinkedIn password, you can reset it two ways; using your email address or your phone number.
Reset LinkedIn Password Email Method
To reset LinkedIn security code with email, follow the steps below;
Open LinkedIn sign in page and click on the Forgot Password instead of filling in your email or phone number. This option shows up in blue below the text-boxes.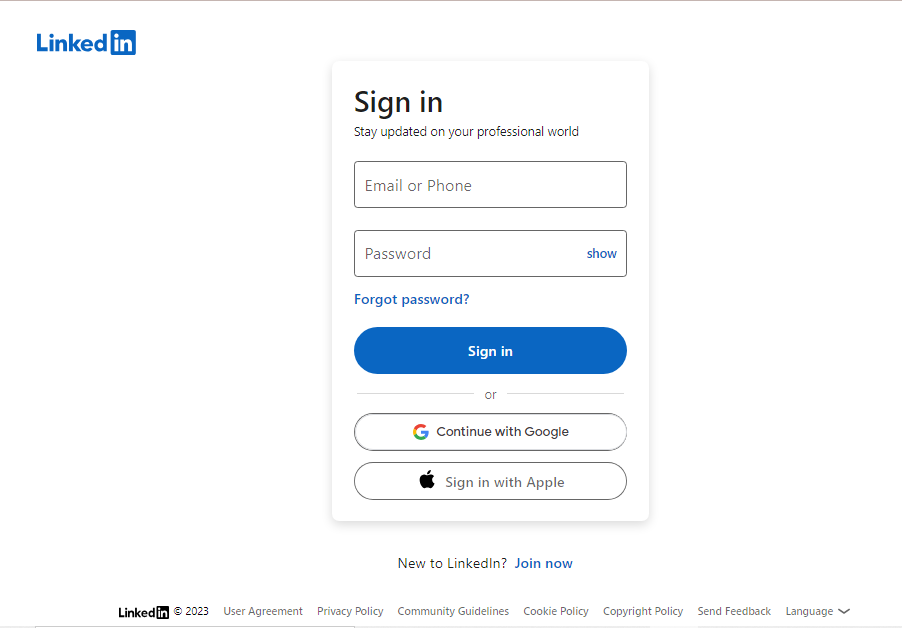 2. To start the 2-step reset process will begin, give your email address in the give bar and click on Reset Password.
3. A 6-digit verification code would be sent to the email you entered. Copy it and paste in the verification box.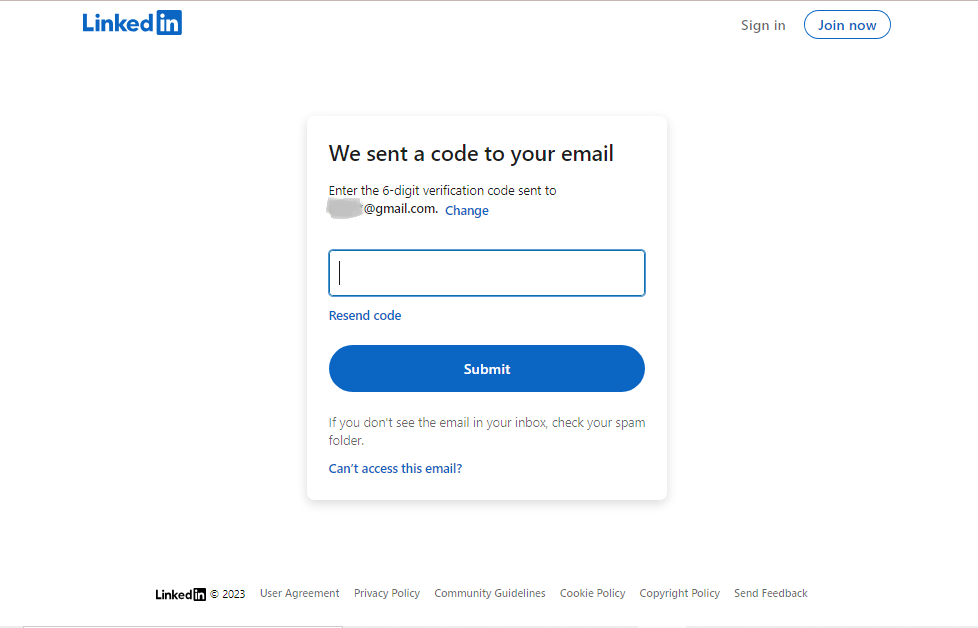 4. Click submit and the Choose a new password page will open. Write the new code and confirm it, after that click on Submit.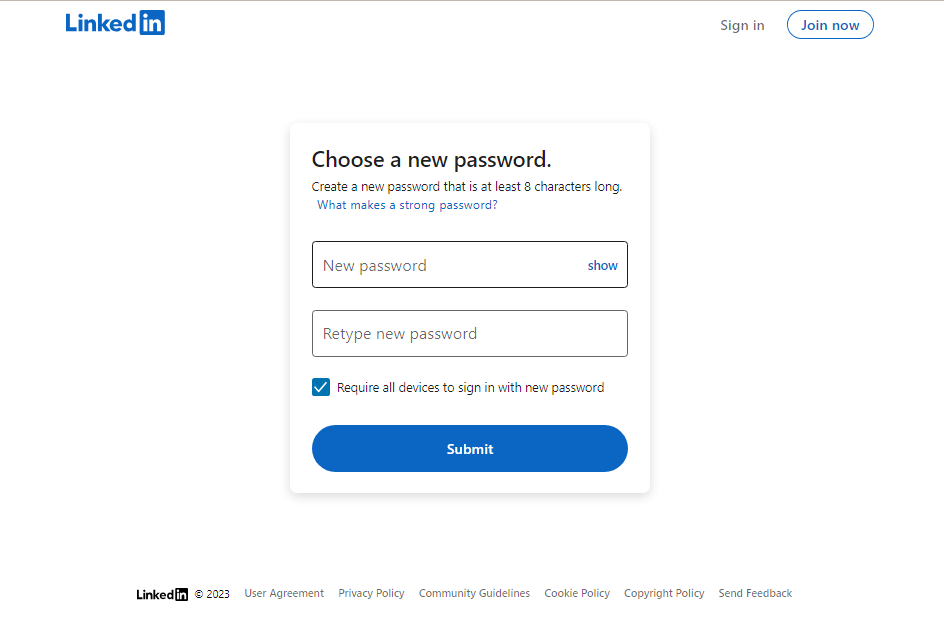 5. With this submission, your pass key is changed and you can now easily sign in to your account with the new code.
Reset LinkedIn Password with Phone Number
LinkedIn password reset without email is as easy as with email. Just write the phone number associated with your account in place of email at the step 2 of above method.
Resultantly, the 6-digit verification code as a text message on your phone number instead of email.
And the rest of method is the same;
Enter verification code >> select new password >> Submit
Why is It Important To Change Your Password Regularly
Benefits And Risk of Not Changing Password Regularly
You can enhance your profile security if you keep changing your pass regularly.
At LinkedIn, changing security code after sometime is not mandatory. Yet cybersecurity experts recommend resetting the passcodes of your social accounts every 90 days.
It minimizes the chances of hacker's attacks.
Also, frequent changes rule out the risk of misuse of saved passwords.
In contrast, using the same security code for a long time can make your profile prone to attacks by hackers and keystroke loggers.
If a cybercriminal cracks your pass and got access to your data, changing the security code using the associated email is an easier way to recover authority than deleting your account.
Password Change Frequency Best Practices
It is equally important to change and protect password to ensure your account's security. Always use strong passwords and keep them secret.
Do not use a code that you use for other sites. This puts many of your accounts at risk simultaneously. If someone succeeds in guessing the passcode or obtaining data from another platform, they will also get an access to your LinkedIn account.
When using a public computer like in a library or internet café, always log out from your account before you leave.
Don't set a code that's too obvious to guess like your nickname, profession or pet's name.
Use passwords with lengths of 10 characters or more. Lengthy codes are harder to guess and are more unique.
Set a key that you can easily remember but others won't guess (at least not easily!).
A handy tip to create such codes is;
Select a meaningful phrase or quote. It should be meaningful so you can remember but don't use a sentence you often say as that can be guessed rather easily.
Then, make a code-word using either the first letter of each word. You can also go for the last letters of each word or the 3rd letter of each word. Choice is yours and options are many!
At the last step, add random number and punctuation to make it stronger.
Let's practice this method;
So, I have chosen this quote for our LinkedIn password example;
"Failing is not always a Failure."
Using first letters of all words I get "FINAAF." Now putting in numbers and punctuation, I have created a strong security code as FI!NAA@F25.
LinkedIn Password Reset Not Working- What to Do, Now?
If you have reset your LinkedIn password but are still unable to log in to your account, following tips might help you;
Clean the browser's cookies
Remove saved old passwords on the browser
Try logging in with a different browser
And if even these hacks don't work, contact LinkedIn Help to resolve your issue.
User experience shared on Reddit proves that LinkedIn team vigilantly helps users in accessing their account.
Related: How to delete uploaded resume in LinkedIn
FAQs
How to recover a LinkedIn account without email and phone number?
If you no longer have the email address and phone number associated with your LinkedIn account, you can verifying your personal identity to LinkedIn team to regain the access to your profile.
Show them your citizen ID provided by the Government and they will give you an access to your account.
Is there a time limit to complete the password reset process once I request it?
According to LinkedIn help, the 6-digit verification code provided on prompting reset process remains valid for a short time only. However, they have not specified the exact duration of validity.

What security measures does LinkedIn have in place to protect my account during the password reset process?
LinkedIn makes sure that only the actual owner of the account could reset the code and get an access to the profile. The measure they take a re;
Only allow passcode resets using the using the verified email address or phone number that you have provided while account creation.
Without these credentials you must verify your Government identity to access your account.
Is there a specific format or character requirements for creating a new LinkedIn password?
Yes, LinkedIn has a minimum character limit to set the access code;
While opening a new account, a security code with at least 6 characters is required.
When you reset your LinkedIn password, it must have 8 characters at minimum.
According to LinkedIn guidelines, a code of 8-16 characters works the best.
If I've already reset my LinkedIn password but still can't log in, what additional steps should I take to resolve the issue?
In this case, you can try hacks like clearing browser cookies and cached data, deleting saved passcodes from the browser or using a different browser.
Summary- Change Your Password to Secure Your Account
A strong security pass guards your professional profile form unauthorized access. But overtime, any code can become vulnerable to attackers. This can happen by various means for example keystroke logging, saved password thefts or guess work.
But an easy way to avoid data breaches is changing the access key regularly after every few days. Use Sign in & Security settings to change the code when you remember the older pass. And if you have forgotten your LinkedIn access code, use the Forgot Password method to retrieve your profile.
Related

Make your LinkedIn profile attractive to recruiters

How to share LinkedIn profile link