Want to share LinkedIn profile link with your new office colleague? But how'd you get the link to your ID?
In fact, LinkedIn gives you many ways to copy your profile link, both from the Webpage and the mobile application.
This his post will let you know all the places where you can find LinkedIn profile URL. Also, we have added complete tutorials on making changes to this link so that you can rank higher in search results.
So, keep reading till the end to know how you can find, edit, and send LinkedIn profile link to others;
Related: How to upload Resume in LinkedIn 
Related: Where to put gpa on Linkedin
Related: LinkedIn Account temporarily and Permanently 
My LinkedIn Profile URL and Why It's Important
LinkedIn profile URL means the link to your LinkedIn ID, starting with
https://www.linkedin.com/in.
Every member has a unique URL on this platform. When someone opens YOUR link, they can see all your public information, public posts and the achievements featured on your account.
For instance, it will show Name, Picture, Bio, Featured section, Experience, Education, Skills, Projects, Groups, and Recent Activity. It won't show all these for you but only those sections where you have enabled public visibility.
This link is one of the important resources LinkedIn provides you for free. Why it's so important, read next;
Importance of LinkedIn URL
Your LinkedIn profile URL helps you;
1. Get Better At Networking
The most basic benefit of extracting a link to your ID is it allows better networking. Let's say you meet an inspiring professional from your niche during the evening stroll in a park.
You want to connect and get in touch with them online but time is limited. If you know the link, you can share your ID with them in just a minute.
Similarly, you can connect with your new colleagues, ensuring all team members are connected online.
Also, you can use this link when you want to impress someone with your online portfolio. It's a handy tool for elevator pitching!
1. Step Forward Toward Your Personal Branding
On one side, you can get a direct link to your account and share it with others with whom you want to connect. And besides that, LinkedIn allows and encourages you to rewrite the link and customize it according to your personality.
This small tweak can make a big difference when it comes to personal branding. You can join your name with your main niche to present yourself as a confident and skilled professional. Or you can market your brand by adding its name to your LinkedIn profile URL.
That's why links containing your brand name, niche, or main skill written along with your name are the best examples of LinkedIn profile URL.
3. Increases the Chances of Getting a Job
Your LinkedIn ID serves as you online CV. And the best thing is it gives you numerous options to feature your portfolio and present yourself as an expert. And it's now more important than ever.
That's because, in the post-Covid era, having an online presence is more or less a necessity for every professional.
When you apply for jobs, the recruiter will likely search for the key candidates online before he makes the final decision. And if you have already mentioned your ID's link in the resume, he will directly go to your account.
This way, you can control what he sees about you. Also, it's a great way to present your past achievements and experiences to potential employers.
However, your profile must be optimized. We highly recommend updating it regularly and posting relevant content about your field.
Related: What should i do to get a new job immediately?
Indeed, a well-managed is a great way to impress potential clients. But a poorly managed account can also make them run away.
Where Do I Find My LinkedIn Profile URL?
Following are the step-by-step tutorials on how to find LinkedIn profile link on PCs and smartphones. And if there is a separate method for iPhone or Android systems?
Let's start with the PC methods first;
Find and Send LinkedIn Link From Web App
You can get LinkedIn profile URL from Webpage on your PC in 3 easy ways;
1. Copy from LinkedIn Contact Info
Your LinkedIn dashboard includes a Contact Info section where your profile URL, email, and phone number (if enabled) appear. So you can easily copy the link there. To do so;
Firstly, go to your Dashboard using the "Me" icon at the top-right of the page. Choose View Profile from the drop-down menu.
Now click on the Contact Info beside your location under the profile name.
The box with all your contact credentials will pop up. Right-click on the link and choose Copy Link Address.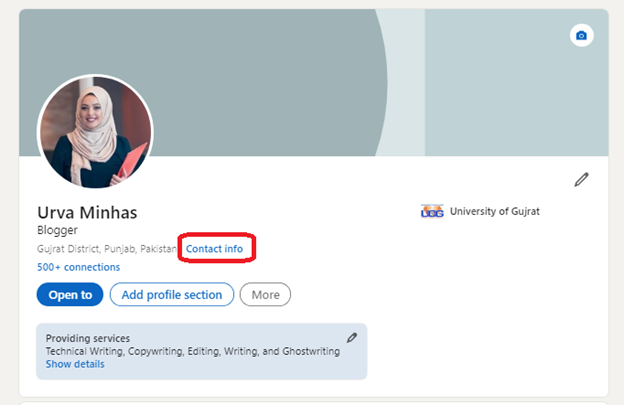 The link is copied. Now, you can paste it into a document like your new CV, send it to someone on WhatsApp, messenger or share it in your social media posts.
2. Send LinkedIn profile link In a Message
The other method is to share LinkedIn profile URL with someone on LinkedIn.
After opening the Dashboard as explained above [Me >> View Profile], Click on the More option.
Select the first option (Send profile in a message) from the drop-down menu.
A message tab will pop out from the bottom of the window on the right side.
You will see the link written as a message that you can send to anyone on this platform. Just type in the recipient name and Click Send.
If you only want to copy the link, you can also do it using this option.
3. Edit and Share the Updated URL
LinkedIn also allows you to create personalized Links to your profile; you can get a new URL anytime and share it from the Edit Profile window.
To open editing options, go to the profile dashboard from Me >> View Profile.
An option named Edit Public Profile and URL is present in the right corner of the page. Click it. The editing page opens in a new browser tab.

The link shows up in the upper right corner of the window. If you are happy with the current link, copy it and send it to others or paste it into a document as needed.
Otherwise, customize your profile link as explained in the tutorial below in the article.
Find and Send LinkedIn URL From Mobile App
Before we move on to the tutorial, let me clarify the difference between the LinkedIn app on iOS vs. Android. There's virtually no such thing; the mobile app works the same on all smartphones, no matter what's the operating system.
So, the methods to get the profile link on the LinkedIn mobile app are also the same as explained next. As for Webpage, there are 3 ways you can copy and share your profile URL;
1. Copy The URL
Once you have opened the app, click on the Profile photo.
Select the View Profile option below your name.
Tap on the 3 dots […] beside the Add Section option.
A menu will pop up. Select the Contact Info.
Once the info card is opened, tap on the link. Options to Copy or Share the link will appear at the bottom. Tap on Copy to copy the link on your mobile clipboard.
You can also personalize LinkedIn URL from the Contact Info. Complete details are given in the upcoming section.
2. Share Directly To Other Apps On Your Mobile
LinkedIn gives you the Share Via option to directly share on other apps on your mobile.
Use any of the following methods to get to this option;
Profile Photo >> View Profile >> 3 dots […] >> Share Via (from the 4-option menu)
OR
Profile Photo >> View Profile >> 3 dots […] >> Contact Info >> Share Via (from the 2-option menu)
3. Send the Link To a LinkedIn Member
LinkedIn App also enables you to send the profile link to a LinkedIn member.
Follow the same steps as mentioned in the previous section to open the pop-up menu. Profile Photo >> View Profile >> 3 dots (…)
Select Share Profile in a Message.
The link will appear in the text box; you can also add your message along with it. Once the message is written, write the name of the recipient and Send the link.
How to Update LinkedIn Profile URL?
As described above, you can create a custom LinkedIn URL. This will help you do better branding.
So, without any further duo, let's see how you can edit your custom URL LinkedIn;
Once the Dashboard is opened, select the Edit profile option on the right side of the screen.
OR
Click on Contact Info beside your profile headline. A pop-up box will appear showing your profile link, email, and phone number. Click on the Edit icon (pencil) to open the profile customization tab.

A new tab will open, showing numerous LinkedIn profile customization. To personalise your LinkedIn URL, click on the bar under the Edit your custom URL section. You can also copy and share the existing link from this section.
To make changes, write your desired URL and press Save.
And tadda! You now have a LinkedIn custom link.
(The settings on the platform change immediately, but it may take some time for search engines to recognize the alterations)
How to Copy the LinkedIn Profile URL
It's simple. Use the same 3 ways that you use to share LinkedIn profile URL;
Copy your ID's address from the address bar of the browser.
You can copy the link from the message tab when you hit share profile in a message from the "More" menu on your LinkedIn dashboard.
And the third way is to copy it from the edit profile page. Click on the Pencil icon in the right corner where it shows the URL. Select the URL and hit Ctrl+C.
Guide You How to Share My LinkedIn Profile Link via Video Tutorial
FAQs
What are the dashes in a LinkedIn profile URL?
Well, there is no special meaning to these dashes in your LinkedIn URL (and in any other URL, too!). They just serve the purpose of spaces-in-writing. As URLs cannot include spaces, so, dashes are used to keep the individual words separated from each other.
That's why the link automatically assigned to your profile has dashes. Also, you can make them a part of your LinkedIn custom link to improve the readability of your URL.
The pro tip
What is the purpose of sharing your LinkedIn profile URL?
Sharing your LinkedIn link helps you expand your network and display your portfolio online in a better way.
[See complete details on the benefits of sharing the profile link in the first section above]
How to delete "old LinkedIn profile URL" from Google results
When your profile appears in the Google search results, it will show the URL that was "assigned" to you automatically by the LinkedIn.
Related: Delete cv from Linkedin
If you have recently changed it to a custom link to share your profile. It's possible that Google search results and address bar still show the same old link. That's because it takes some time (usually 1-2 days) to reset the link for the search engine.
LinkedIn also informs you about this when you save the new link. It informs that the custom link is saved and functional now, but it may take some time for a search engine to recognize the new URL. That's because LinkedIn has no control over the refresh process of search engines.
Wrap Up- share LinkedIn profile link To Upscale Your Career
Customizing and sharing your LinkedIn Profile URL on all your social media handles is a genius branding and networking decision.
This way, you increase the chances of getting engagement to your content and being discovered by potential clients. Also, you can use your LinkedIn ID as an online portfolio and give the link to it in your resume.
All in all, this small act can potentially become a game-changer for your career. So, follow any of the 3 tutorials given above and start sharing your profile's link with others. And once you have it out there, don't forget to see who's checked your profile.
Source:
https://www.LinkedIn .com/help/LinkedIn /answer/a542685/manage-your-public-profile-URL?lang=en
https://www.LinkedIn .com/help/LinkedIn /answer/a539937/sharing-a-profile-with-connections-and-coworkers?lang=en
https://developers.google.com/search/docs/crawling-indexing/url-structure