With 930 million professionals active on the platform, LinkedIn networking is now a norm in the professional world. But sometimes, you may want to hide your profile to keep your latest career developments undercover.
So, in this blog, you will find out how can you make your LinkedIn profile private and what are the benefits of hiding your LinkedIn profile, if any.
Read More: How to delete LinkedIn account without logging in
How Can I Hide My LinkedIn Profile Without Deleting It?
Turn Off LinkedIn Profile Visibility On Desktop Site
Using a desktop computer, hide your LinkedIn profile without deleting it with LinkedIn profile visibility settings.
Click on the Me button at the top of the newsfeed or homepage.
Select View Profile.
3. From your profile dashboard, click on the pencil icon beside the Public Profile & URL option.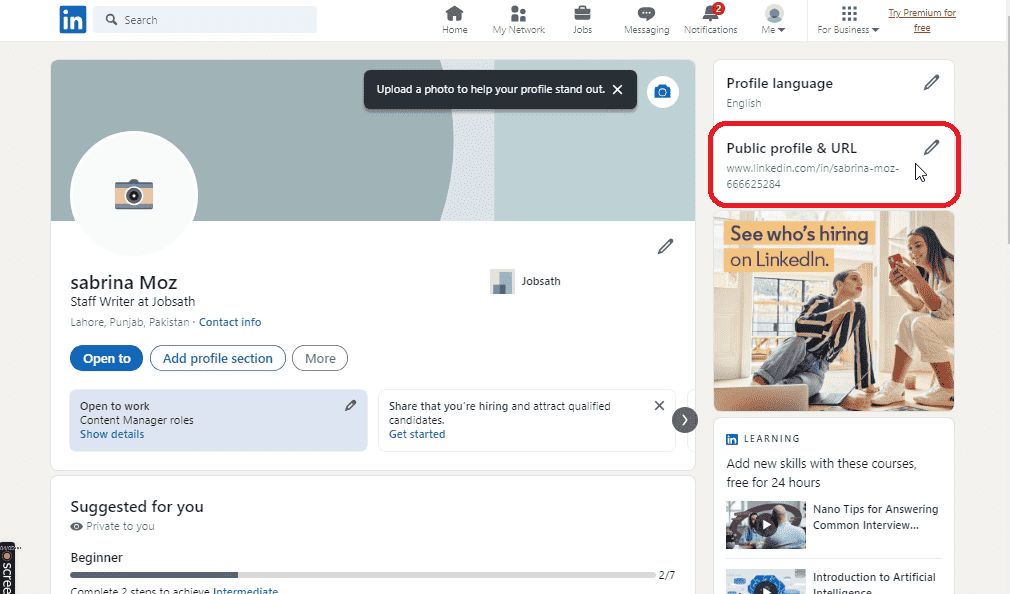 4. A new page (Public Profile Settings) will open. Go to Edit Visibility section on the right side to switch Your LinkedIn public profile visibility.
Related: Change LinkedIn Password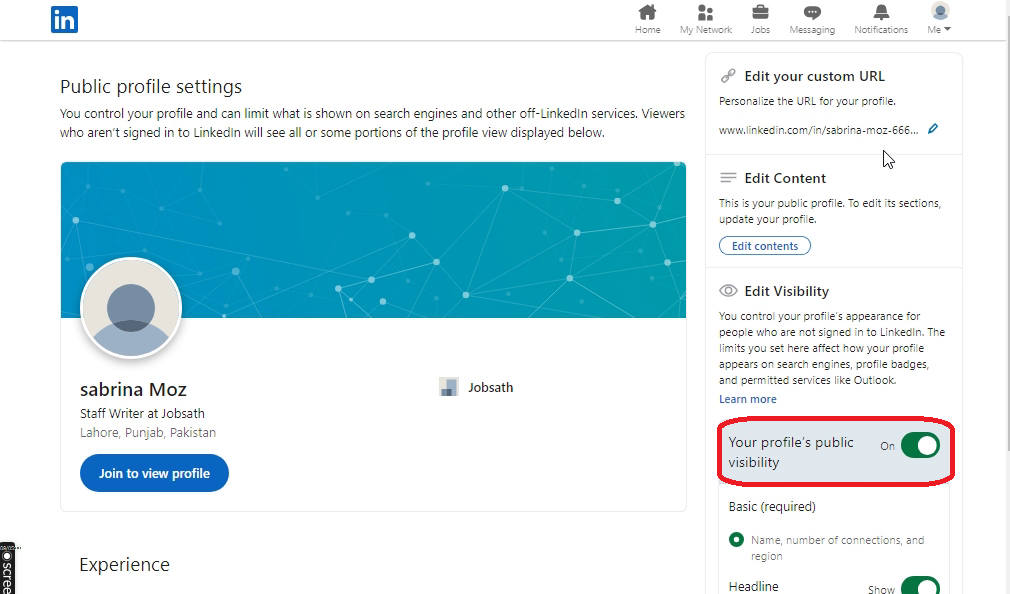 A notification will pop up when the settings are updated.
Customizing Profile Visibility Through Mobile App
The best way to hide your LinkedIn profile on a mobile device without deleting it is by turning off your profile visibility outside LinkedIn and controlling your online presence
The steps are very similar to the desktop site method;
Tap at your Profile picture to open the options menu.
Go to Settings and tap on the Visibility option.
Select Edit Your Public Profile to open the settings page.
Toggle Your profile's public visibility to off.
This procedure explains both how to hide LinkedIn profile from Google search iPhone as well as Android devices.
Everything About Managing Public View On LinkedIn
Can I Hide My LinkedIn Profile from Everyone?
Well, the answer is you can hide your profile from most people but NOT FROM EVERYONE. That's because your first connections on the platform can always discover you.
But as I said, you get a lot of options to limit access to random persons to your personal information and content.
First off, you can completely hide your professional ID from people who aren't LinkedIn members. (Steps explained in the above section)
Then you can control what information is visible to your connection using the path Me >> Settings & Privacy >> Visibility.
From this section, you can manage the following visibility settings;
● Privacy options LinkedIn Profile viewing
Using this setting, you can choose Private Mode to keep yourself Annonymous when having a sneak peek into others' accounts. So, your name, picture, or other details will remain under the cover.
Check out Who's viewed your profile for a complete video tutorial on how to make LinkedIn private mode.
How to Hide Your LinkedIn Profile from Everyone? (Video Tutorial)
● Editing your Public Profile
You can customize your LinkedIn URL and change public visibility from the second option.
● Hide Email
The third step allows you to manage if your email address is visible to other members or if they can export it.
● Hide Connections
You can control whether people can see your network on the platform. If you turn this feature "off," people will still know about mutual connections and connections you have endorsed.
● Hide Member Following
Similarly, you can manage the "follow visibility" for other members. But this setting does not apply to LinkedIn hashtags or pages. When you switch off this option, only those you have followed will know about it, but your other connection won't see the following.
● Hide Last Name
You also get an option to hide your last name. If a person isn't connected with you, he will only see the first initial of your last name. However, your name will still be visible to your first connections.
Also, if someone searches for you using your first and last name, your profile will still appear in the results.
● Hiding Profile As An Organization Representative
You can hide your profile information when posting on LinkedIn on behalf of your company. This posting can include jobs, events, and sponsored content.
● Prevent Account Discovery
Then you have options to limit your profile discovery using off-LinkedIn posting, your email address, or your phone number.
Managing these settings will ensure your privacy and cybersecurity. So, I highly recommend you optimize your accounts Visibility according to your needs.
To make this optimization easier, you can take help from LinkedIn profile development services.
Read more: How to make LinkedIn profile stand out
Can I Make My LinkedIn Profile Hidden From Public View But Viewable To a Potential Employer?
You can hide your profile from public view, but it will be shared with the recruiters when you apply for a job.
With the EasyApply option, your profile is visible to the employer by default. And for jobs that redirect you outside LinkedIn, you can choose whether you allow sharing your profile with the job poster.
To avoid profile sharing, update your LinkedIn privacy settings as follows;
Go to the Me icon and select Settings & Privacy.
Open Data Privacy settings on LinkedIn settings portal.
Move to Job Seeking Preferences and select Share your profile when you click Apply for a job.
4. Turn off the option to stop sharing your details with the job poster.

How To Hide LinkedIn Profile Temporarily?
When you switch off public visibility, your LinkedIn ID is hidden temporarily. You can anytime switch back to public visibility.
If you have hidden your last name, connections, and followings from other members, you can make these attributes visible anytime.
Similarly, you control off LinkedIn visibility settings.
But wait! What is profile visibility off LinkedIn?
It refers to your account's visibility when someone searches your name and your LinkedIn ID comes in the search results. Also, the appearance of your information to people using LinkedIn affiliated mailing services like Outlook.com or YahooMail.com.
Another way of temporarily hiding your account is by Hibernating (aka. temporarily deleting) your account.
You can do it from the Settings & Privacy section of your account. For a detailed method and tutorial showing all the steps, read the other blog about deleting your LinkedIn account.
How to Prevent LinkedIn Profile from Google search?
LinkedIn Visibility settings are instantly updated, and people outside LinkedIn won't be able to see your account if you have hidden it.
However, the account may still be listed in Google search results for many days or even weeks. Why? Because search engine databases are updated after a certain time. So, it may take some time to prevent your account from coming in search results.
When you make a change to Public visibility settings, the pop-up notification also notifies you about this fact. As LinkedIn has no control over search results, they suggest you contact the respective search engine for this issue.
Nonetheless, non-member individuals won't have access to your content once you have disabled public visibility. Even if they found your LinkedIn profile URL in the search results, they will only see "Page not found" when they try to open that link.
Can You Hide activity on LinkedIn profile?
You have the choice to show or hide your activities from connections. To open these settings go to;
Me >> Settings & Privacy >> Visibility >> Visibility of your LinkedIn activity
You can manage the visibility of 5 types of activities.
With the manage active status option, you can hide your online presence from your connections and other people on the platform.
Here you have 3 options; to hide your status from everyone, show it to your connection only, or show it to all LinkedIn members.
When you add a new section or update your experience section or make any other change, your connections are usually notified. But if you turn off Share updates with your network, your updates will be hidden.
You can also decide whether or not your connection should be notified when you are mentioned in the news.
The last 2 options enable you to control whether others can mention, tag, or follow you.
Pros and Cons of Limiting Public Access to Your Professional Profile
Benefits of hiding your LinkedIn Account
By limiting professional visibility, you can keep your current activities private. This is especially helpful when you are making connection with potential clients but don't want your current boss or colleagues to know about it.
You can avoid many spamming connection requests and messages by limiting your profile discovery. This especially helps when you have a high level of industry engagement or are in a recruiting position.
Privacy settings in LinkedIn come in handy when doing market research.
As a job seeker, you may want to look at other people's IDs for better content ideas and profile optimization. It helps you know the latest trends professionals in your industry follow.
Using the private mode, you can do this anonymously. LinkedIn will send a notification to the account owner that someone visited their profile, but your details like name, picture, or organization won't be visible to them.
Turning off public visibility also help in Personal information protection. It limits the reach of random people to your email, phone number, and resume uploaded to your LinkedIn account.
Disadvantages of Hiding Your Profile
Hiding your account makes you invisible to potential employers.
You may miss an opportunity of LinkedIn networking by hiding your identity when you are visiting someone else's ID, reading and watching their content.
And if you are not actively making connections with potential recruiters and industry experts, your career growth will be slower. That's because the importance of networking for career development is now higher than ever!
Hiding the profile is counterproductive for marketing and sales. After all, how can you make a sale "being invisible" to the potential customers?
That's why most people prefer public visibility as you can infer from this Quora thread.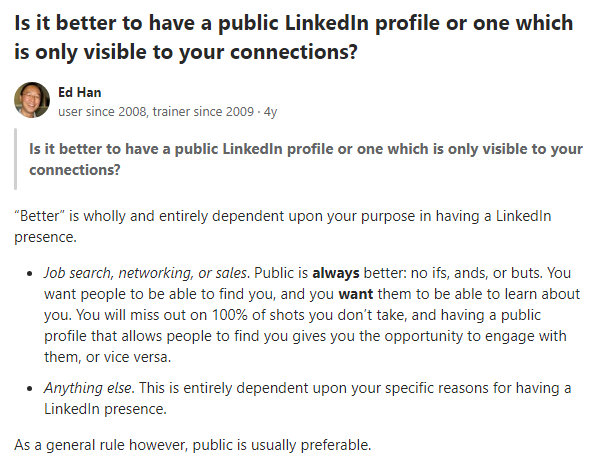 Hiding your profile will also make it difficult for recruiters to find you, especially when they hunt talent using search engines.
If you look into social discussions on Reddit or Quora, you will find many professionals like Aishwarya Wahane or Saare saying that staying visible on the platform is more beneficial for seeking new job opportunities.

LinkedIn is basically a networking platform, and losing this primary benefit isn't going to provide you much benefit, as stated by Daniel Tunkelang, a data science expert at LinkedIn.
Related FAQs : How to Hide Your LinkedIn Profile from Everyone?
How to hide your LinkedIn profile from Google search?
You can hide your profile from Google searches by switching off public visibility.
But as explained earlier, it may take a few days to several weeks for the search engine database to refresh.
Can you temporarily hide your LinkedIn profile?
Yes, you can temporarily hide your profile using either Public Profile settings or the account Hibernation option.
Can you hide your LinkedIn profile from current employer?
The answer varies depending on if your current employer is a LinkedIn member or not;
If they haven't signed up with LinkedIn, you can hide your account by switching off public visibility.
If they are a member but not your first connection, you can hide many sections of your ID from them using the Visibility settings as explained above.
If your current boss is added to your first connections, he/she will see most of the information on your profile.
If you have connected with them on LinkedIn, most of your profile information will be visible to them. However, you can hide your active status and connection list from them using LinkedIn visibility settings.
Wrap Up
You can only partially hide your LinkedIn profile. This means some individuals (your first connections) will always be able to see your ID.
Nonetheless, you can completely hide your profile from someone who's not signed up with LinkedIn.
Also, you can hide many personal details from LinkedIn members whom you haven't connected.
Conversely, you have the option to hide your ID from everyone. And that is to hibernate your account. On one side, it will hide your posts and comments. While on the other side, your chat and endorsements will be renamed to Anonymous members, and no one will be able to message you.
But by doing so, you won't be able to stay active on the platform while your profile is hidden.