With about 930 million members from 200 countries, LinkedIn helps you get in touch with professionals both locally and remotely. That's why some people purposely grow their LinkedIn network beyond their personal relations. They connect with In-members even if they don't know them.
As a result, they have a much higher number of connections, and often, these people have written the word "LION" in their profile.
But what does Lion stand for on LinkedIn? And if it is a good strategy to use or not.
To end up your curiosity, we have added full details on LION LinkedIn in this post.
You will know what it is and how to find lions on LinkedIn, how to add or remove them from your network, and how you can become a LION.
But first, let's see in LinkedIn Social network, what is LION?
Related: can people see if you look at their linkedin
What Does Open To Network Mean On LinkedIn?
LION means LinkedIn open networker.
LinkedIn allows 30,000 1st degree connections and these users try to expand their connections exponentially until they reach the upper limit.
Where To Open Network On LinkedIn?
There is no open to network LinkedIn badge, which means that LinkedIn Open to Network is not an official feature provided by LinkedIn. Rather, the people who want to make a massive number of connections quickly use this keyword.
3 Tips To Become A LinkedIn Open Networker
Make a lot of connection requests.
Approach the profile you see in LinkedIn connection recommendations.

You can search for a specific field or role to build your network around one niche.

Join industry-related groups and send connection invites to other group members.
2. Mention keyword LION in your profile name, headline, or About Me section.
3. Another thing that can help you quickly become a LION is to connect with the other LIONs.
And how do you find out that a person is an open network? Check out the next section for that!
3 Ways For Finding LIONs on LinkedIn
Type the keyword "LION" in the search bar, and LinkedIn will automatically find you with a list of LIONs.
The second way is to join open networking groups. Here, you will find thousands of people willing to add other professionals, whether they know them or not.
Sometimes, you don't want to connect to open networkers on LinkedIn but rather to the "restricted open networkers" only.
(These are the people who network openly but stay limited to their industry and niche)
To do so, type the relevant field/industry name + lion to get the open networkers of your field. For example:
Cybersecurity Lion
Digital Marketing Lion
Lawyer Lion
How To Remove Open To Network On LinkedIn?
Remove the keyword "LION" from your profile headline and bio
If you have joined open networking groups, stop participating there and, if possible, exit from such groups.
Another step to stop open networking and avoid getting too many connection requests is to disconnect from other LIONs.
Related: How do i remove old resumes from LinkedIn
Removing LIONs on LinkedIn
To remove open networkers from your profile, follow the same procedure as removing any other connection from LinkedIn:
Click on the My Network button from the top of your LinkedIn homepage.
Open Connections from the left sidebar.
Now, click the three dots next to the LinkedIn member (LION) you want to disconnect and choose Remove connection.
A pop-up will emerge to confirm connection removal. Click Remove, and that connection will be deleted from your network.
What Are LION Pros And Cons?
Some people consider making irrelevant connections spammy or unhealthy activity while others consider it a very useful technique to grow and expand their circle.
Here are the pros and cons of open networking on LinkedIn:
Lion Advantages on LinkedIn
Open to network LinkedIn good or bad is subjective to your personal aim of networking.
Major advantages are listed as follows:
1. Expand Your Network Quickly
If you are a new user who wants a large LinkedIn audience, open networking can help you grow your circle quickly.
Adding LIONs to your network quickly increases your connections as these people act as a link between you and numerous other users.
These people have a large network, including many other open networkers and professionals from all over the world.
Therefore, you can get hundreds of requests from their connections overnight.
2. Elevates The Visibility
With more connections, your posts get more reach because when any of your 1st connections likes or comments on your post, your 2nd and 3rd degree connections also see that post in their news feed.
Also, your profile appears more often and ranks higher in the search results. In turn, more people (especially potential recruiters) visit your profile.
This way you can get approach more opportunities as you have a large audience, and that too without paying for LinkedIn Ads!
If you are a small business owner, you can utilize this method to quickly increase your page's audience and drive potential customers to your website.
3.      You Can Come Across More Job Listings
As LinkedIn is one of the most extensively used job boards, many people also announce vacancies in their posts besides setting up a formal LinkedIn job posting.
If you connect with many head hunters on LinkedIn when you are looking for work, you are likely to find jobs more quickly.
4.      Find Better Employees
For recruiter (especially remote headhunters), having more connections helps find the right person for the job.
For this purpose, being a LION offers you an access to a lot professionals. So, you can perform a talent hunt more efficiently.
Disadvantages Of Lion
Despite many advantages, open networking also has some demerits. So, if you are planning to become an open networker, consider the following points as a precaution:
1. Increased Risk of Spam
Connecting to a lot of people can make you approachable by spammers. As your contact information and career details are visible to your connections, having random connections can cause privacy issues.
Keep your personal information private especially don't disclose your phone number or exact address.
However, you can only hide a few details from your 1st degree connection. For example, your email address always remains visible to your connections. Therefore, the spammers can send you junk emails or newsletters you have never subscribed to.
2. It May Look Self-promotional
When you add the word LION to your bio, headline, or profile name, it is a clear announcement that you will accept networking invitations from everyone.
And telling others that you are open to all and have no filters whatsoever can make you look too desperate.
This reduces your professional worth and makes you look like a salesy professional trying low-standard self-promotion.
People can devalue your opinion, consider you a low-quality connection, and might even dislike you.
3. You Get a Large Number of Low-Quality Connections
If you become a LION, you may receive 100+ connection requests in some hours.
But how many of them will provide you with the desired quality?
Open networkers often find it difficult to get to potential clients despite having a large number of connections. That's because they mostly connected to random people for the sake of increasing connections only.
In turn, those connections were also open networkers, only interested in increasing their number of connections.
So, you get very little value from such a random network. When seeking job opportunities, displaying the official LinkedIn open-to-work badge is a better option.
Open To Work Meaning
So, what is the open to work hashtag on linkedin?
It is a LinkedIn feature that helps you find better job opportunities more easily.
Unemployed people or those looking to switch their job display open to work on your profile. It appears as a green border/circle on your profile photo with the hashtag #open to work, letting the recruiters and your connections know that you are finding a job.
LinkedIn Open To Work Good Or Bad?
Like any other career growth tip, this feature works for some and not for others.
For instance, people gave mixed reactions about the usefulness of this feature in a subreddit discussing the recruiting trends relating to the open-to-work badge.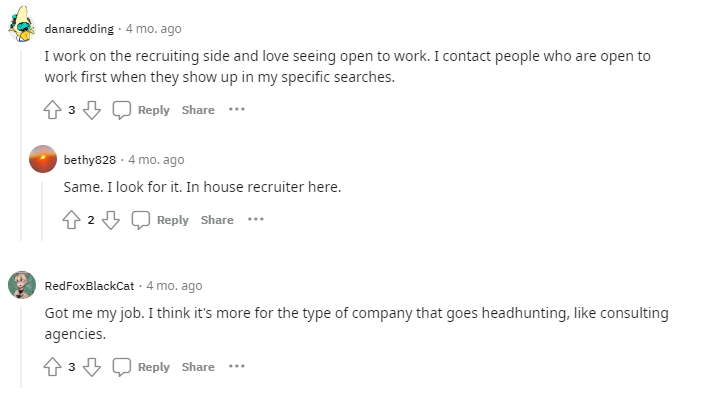 Nonetheless, some recruiters and employers affirm that it works both for hunting jobs and employees.
LinkedIn Open To Work Who Can See?
A good thing about this feature is that you can even hide it from your current employer to avoid workplace misunderstandings.
Another interesting point about this feature is you don't need to display it to everyone. Instead, set LinkedIn Open to Work visibility for Recruiters only and no one from your connections will know that you are seeking a new job.
LinkedIn open to work recruiters only meaning is that your open-to-work badge is visible only to the recruiters, and it is invisible to all other LinkedIn users.
In fact, many professionals and career consultants recommend using this Recruiters only mode than telling everyone that you are looking for a job.
For example, seasoned career consultant Robert Hellmann wrote in his Forbes article that choosing Share with all LinkedIn members can lead to spam and time wastage rather than productive networking or job hunting.
First, go to your profile by clicking on the Me button and then View profile at the top of the homepage of your LinkedIn profile.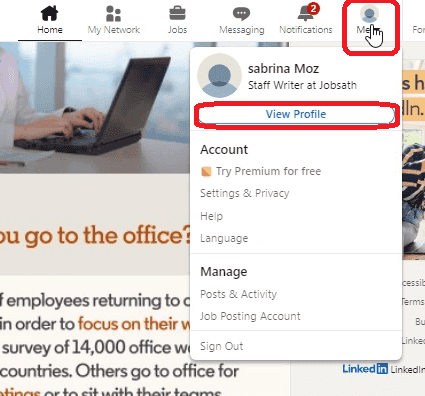 2. Then, click the I am button.  A drop-down menu open, showing two options:
a. Use Find a job to display #open-to-work
b. And hire to display #Hiring around your profile picture.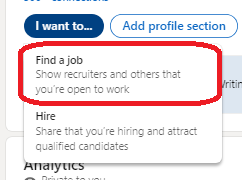 3. When you click on the Find a Job option, a description box pops up asking for your job and privacy preferences. Give information about location and employment type.
4. Once you have provided all the required information, press the Apply button.
Method 2-Open To Job LinkedIn Feature URL
If you face a trouble finding the I want to button, you can go to this link to display and manage open to work badge. https://www.linkedin.com/help/linkedin/feature-launcher/urn:li:helpCenterArticle:(507508,LITHOGRAPH)?trk=search_feature_launcher
Once the Edit Job Preference pop-up is opened, follow steps 3-4 as explained in the above section.
Method 3-Set Open To Work From Profile Picture
You can also turn on open to work LinkedIn directly from your profile photo.
Open up your LinkedIn profile dashboard. Me >> View Profile
Click your profile photo. A pop-up box shows your profile photo and contains some formatting options.
3. Click the Frames button. It shows you #open to work and #hiring frames.
4. Select the Open to work frame and press the Apply button.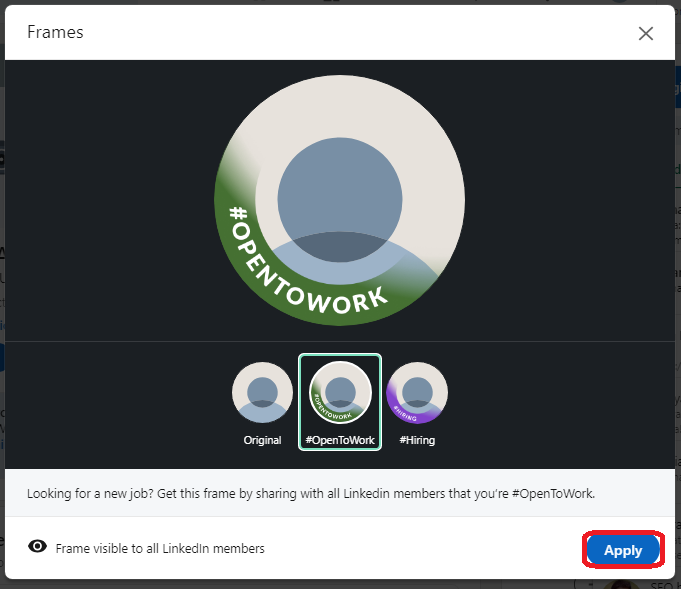 5. It asks you for your preferred work details like job title, location type, and the privacy options.
6. Select the most suitable options and press the save button. Congratulations, the badge is now displayed on your profile and lastly, you will be asked if you want to update how you receive notifications about new job openings.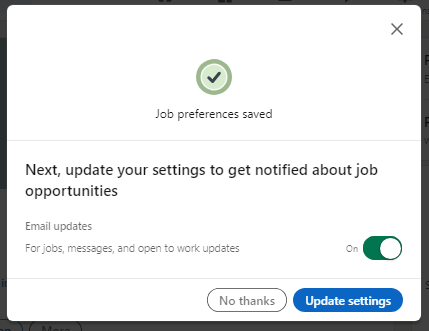 How to set open to work in LinkedIn only for recruiters?
For setting LinkedIn open to work recruiters only open up the Find a job prompt by the similar method as described above:
Me >> I want to >> Find a job
At the bottom of the Edit Job Preference box, you get two options for setting the visibility.
3. You can choose Recruiters only if you want to show your availability for work only to the LinkedIn recruiters, or you can enable open to work in LinkedIn for all users.
How To Change Open To Work Status On LinkedIn?
You can easily edit the LinkedIn open for work by either changing the privacy settings, location, and employment settings or removing the badge altogether.
Following step will help you do these changes:
Press the Me button from the upper navigation bar. Then click on View Profile to move to your profile dashboard.
Click at your profile photo.
The Open to Work status is displayed below Add profile section and More buttons. Use the pencil icon to make changes.
Related: Add cv to LinkedIn profile
4. Now make your desired changes from the popped-up settings tab and Save new settings.
a. Switching career paths, add the new job title.
b. Shifted to another city, change your location accordingly.
c. Change your workplace preference from on-site to remote or hybrid or vice versa.
d. If you want to change the work status from showing to everyone to only visible to recruiters, scroll down, and change 'All LinkedIn members' to Recruiters Only.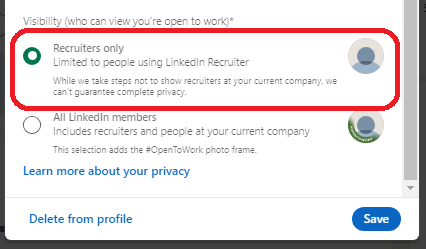 How To Turn Off Open To Work LinkedIn?
Open you profile dashboard and click on the profile photo.
A pop-up box open, go to Frames options.
Choose Original to take of the open to work badge.
On the popped-out settings box, click on the pencil icon to open badge settings.
Now, press the Delete from Profile button.
Alternate Method For LinkedIn Turn Off Open To Work
Open job search settings by using the pencil icon displayed besides the open to work box on the profile dashboard. (It is located in the first section of your profile showing your name, picture and headline)
Select Delete from profile to confirm LinkedIn open to work turn off.
FAQs: LinkedIn open to network
Does open to work on LinkedIn look desperate?
No, open-to-work is a good strategy for personal marketing as it makes clear to the recruiters and hiring managers that you are available for work. By using this feature, you can actually get better opportunities.
Why LinkedIn open to work not showing?
If you enable the 'recruiters only' mode for open to work feature, the badge then didn't visible to your individual account or connections but only to people using a LinkedIn recruiter account.
Moreover, it is important to respond timely to InMail messages from recruiters. If you do not reply them for a long time, LinkedIn can take off your open to work badge.
What to do if LinkedIn open to work not showing?
If your open to work badge is not showing, you should try to re-enable the badge as follows:
Go to the job search settings by using any of the 3 methods explained above.
Click the pencil icon. Edit/recheck the job preferences.
Make sure that you have provided all the necessary details in the job preferences section, and then press the Save button.
How to hide open to work from employer?
LinkedIn open to work hide from employer is done by choosing the "recuiters only" option while enabling the open-to-work feature.
It helps you search for a new job but doesn't tell your current employer that you are looking for better job opportunities.
But when a hiring manger searches for qualifications as yours and finally opens your profile page, open to job LinkedIn badge will be visible to him indicating that you are a job seeker.
How to remove open to work on LinkedIn mobile app on iPhone?
Open the LinkedIn app. Tap your profile photo from the main feed.
You can see the Open to Work box just below your basic info. Tap the pencil icon.
The pop-up opens up, showing the details of your job preferences.
Click Delete from Profile and reselect Delete again from the new prompt.
Using Open to Work Optimally
The following tips will come in handy for job searching and networking with #OpenToWork displayed on your profile photo:
Optimize Your Profile
Being open to networking or work would not provide you with the dream job offer if your profile is not optimized to impress recruiters.
Millions of professionals are present on this platform, so, you must have a refined profile that makes you stand out among the crowd.
That's why the most important thing you should do to uplift your probability of landing new job is to refine your LinkedIn profile because it can serve both as your online resume and portfolio:
Write a captivating headline
Use a professional profile photo
Craft a persuasive LinkedIn summary
Add work-experiences and projects
Get recommendations and endorsements from previous colleagues
Feature certificates and accolades
Get Active in Groups
LinkedIn groups usually serve one particular niche; they can get you in touch with the industry leaders and give you an in-depth insight about the latest job-market trends in your field.
In an active professional group, you can get all benefits you get from attending job fairs.
By actively participating in such groups, you can introduce yourself as a subject matter expert and attract employers.
Engage With Recruiters
If you are networking with a purpose that it will find you a better job on LinkedIn, the most beneficial connections are the HR persons in your field.
Rather than randomly sending connection requests to too many individuals, search out a bunch of potential recruiters.
Try to connect with them and start engaging with their content. Comment on their posts and share your opinion.
Simply put, make them know you!
This practice, combined with a well-optimized profile, will significantly increase the chances of getting a job interview call after you submit your cover letter and job application to that recruiter.
Wrap Up
On LinkedIn, you can choose to keep your network limited to professionals you know and resonate with or expand it enormously, connecting random members.
Open networking helps you connect with inspiring professionals outside of your zone.
However, if you are networking to find best job postings, open to work badge is more efficient than being a LION. It makes you easily accessible to recruiters and employers, telling them that you are free for work.
Simply put, open networking is a great way to add diversity to your professional network and grow your influence in different industries. But to find new jobs, limit your network to one niche and put an open-to-work badge.
External Link:
https://www.forbes.com/sites/roberthellmann/2020/07/20/job-seekers-be-careful-using-linkedins-new-open-to-work-feature/?sh=29d2b3e16138