Connecting multiple email accounts with your professional profile makes it more secure and easily accessible. But can you update email address on LinkedIn and remove the address you have previously set as your primary mail?
Fortunately, the answer is yes; email change options in LinkedIn allow you to add a new address and make it your primary mailing ID for the platform.
And the best thing is that the LinkedIn email switch process is not as complicated and time taking as it's for many other social media platforms. It will hardly take 5 minutes to update your primary address, if not less.
Related: How to Delete Old LinkedIn Account Without Password or Email
So, keep reading because, in this article, you will find complete descriptions and screenshots for changing LinkedIn email. Also, we have included a short LinkedIn change email tutorial that describes all LinkedIn email settings, helping you add or change LinkedIn Email Address.
What Is LinkedIn Email Address, Primary, And Secondary?
The primary mail is the address you used to create your account. It's where you get all the messages and notifications from LinkedIn.
Besides that, LinkedIn allows (and highly recommends!) linking additional mailing addresses to your profile. These are called Secondary addresses.
You can use these additional IDs as an alternative to access your profile and communicate with the LinkedIn team.
To check what is my LinkedIn email address preference,
· Either open Contact Info from your profile dashboard
· Or go Sign In & Security settings.
Can You Change Primary Email On LinkedIn?
Yes, you can change email on LinkedIn and even make the newly added mailing ID your primary address. Plus, with the LinkedIn remove email address feature, you can delete your older address if that's no longer in use.
And if you are thinking how to update LinkedIn email address, we have added the complete method with screenshots in the next section.
Related: Thank you interview email subject
LinkedIn Email Change Method
LinkedIn email address update involves 2 simple processes.
· First is to add the mailing address that you want to add.
· And second one is to reset your preference and make it your primary contact option.
Here are all the steps to add or change email address for your LinkedIn account:
From the "Me" button on the top bar, open the drop-down menu.
Opt for the Settings & Privacy option.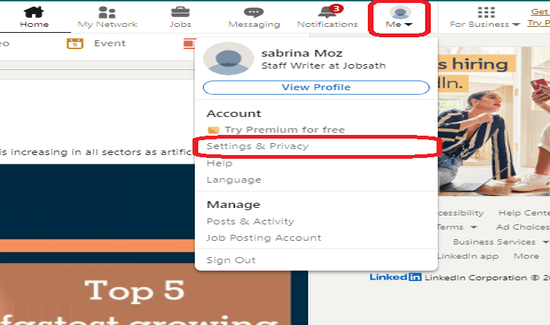 3. Next, go to the Sign in & Security section in your profile settings portal.
4. Open Email Addresses linked to your profile and click on the Add Email Address button.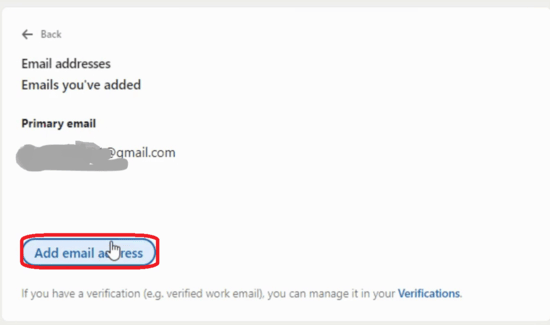 5. Write the new address in the given bar and enter your password for verification.
6. You will receive a link in the mailing inbox to confirm LinkedIn email address change.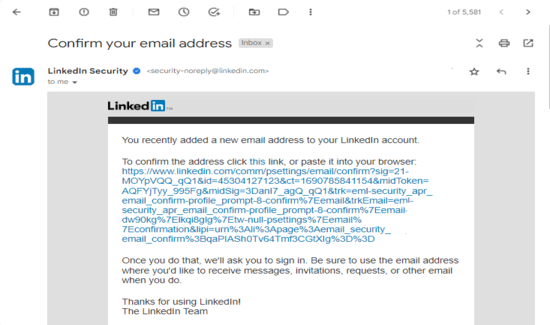 7. After confirmation, the new mail will be added to your profile as the secondary mailing address. Click on Make Primary to update the preference list.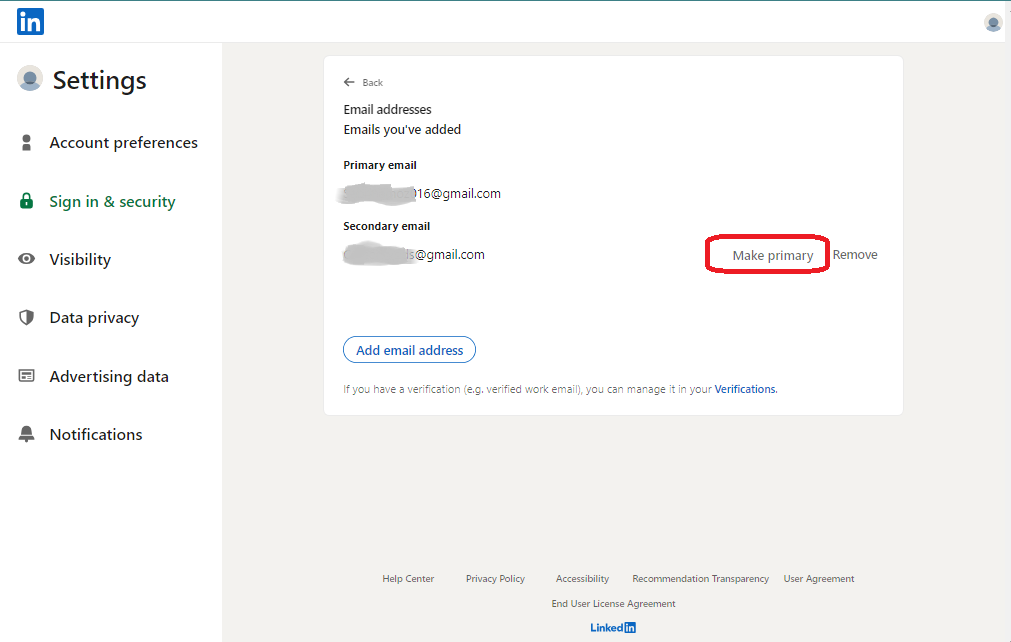 Also, you can watch this short tutorial to know how do you change your primary email address on LinkedIn:
How To Change Primary Email on LinkedIn? – Video Tutorial
Which Mailing Address Should You Set As Primary?
Primary email is where you will receive job alerts, connection request notifications, and updates about posts, events, and activities on your LinkedIn network. Hence, the best suggestion is to choose your primary ID according to your profile usage.
According to Teddy Burris, a LinkedIn Strategist, and Trainer, make the most relevant mailing account primary.
If you use the platform for your company-related tasks like hiring, sales, or event management, set your company email as primary. However, your company guidelines about the usage of company-assigned mailing account are also important.
Some companies do not allow usage of their mails on social platforms. In this case, it is best to stick with your personal ID and create an additional, professional account for work purposes.
If you use your profile to manage your business page, your business email is the best option, as you will get the notification for your business page directly in the relevant inbox.
If you are hunting for jobs and use this platform for personal branding, keep your personal mailing address primary so that you don't miss an important notification.
Other professionals shared similar thoughts on Quora. For example, Terry L. Anderson says that using a work email on your profile validates your employment status and improves your professional persona.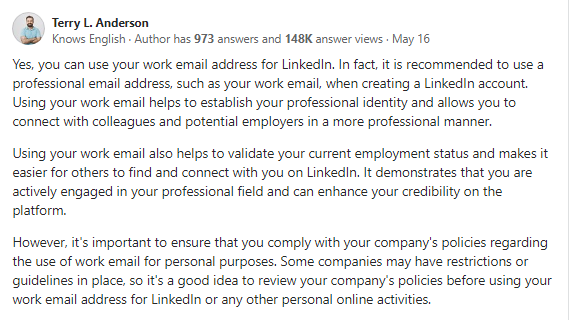 How To Remove Primary Email From LinkedIn?
You cannot remove your primary mailing ID from your profile.
Address removal option only shows up for secondary emails and not the primary one.
Hence, if you want to delete an address from your profile's data, you must make it secondary and then remove it.
Here is the procedure:
1. Open Sign in settings from Me >> Settings & Privacy >> Sign in & Security >> email addresses
2. You will see a Remove option in front of each secondary mailing address. Click it.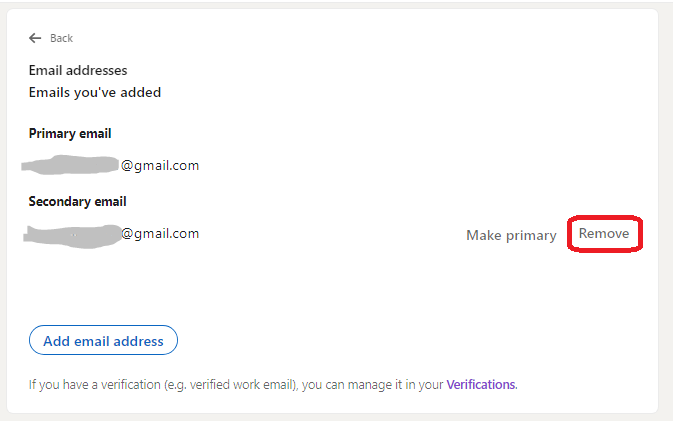 3. Fill in the password and click on the Remove button to delete that address from your profile.
Now that you know how to find LinkedIn email address, add new primary or secondary emails, and remove abandoned addresses, let's talk if adding multiple addresses is actually worth it:
Benefits of Adding Multiple Mailing Addresses On LinkedIn Profile
If the primary mail you linked with your profile is your company mail, you can lose access to it if you quit your job. In this case, having a personal address as the secondary mail will help you ensure consistent access to your profile.
You can use the secondary mailing account to retrieve the password and new sign-in confirmation if you don't have access to the primary mail at the moment.
Additional addresses improve the security of your profile. If one of your mail is hacked, you can manage and protect your account through secondary addresses.
If you have enabled discovery via email, many people who know your mailing ID but are not connected with you on LinkedIn can find you and send connection requests.
But what if you don't want a lot of people to see your personal mailing address?
This is especially desirable when you are in a recruiting position and receive a lot of spam messages whenever you post a job.
No worries because you can easily hide contact details on your LinkedIn profile, like your mailing address and phone number.
LinkedIn Remove Email From Contact Info
Use the following method to keep LinkedIn email contact private:
1. Hit the Me icon and choose Settings & Privacy.
2. Open the Visibility tab.
3. From the Visibility of your profile & network section, click on the third option; Who can see or download your email address.
4. Using this option, you can manage if your mailing address is visible to your connections and other members when they visit your profile. Either hide it from everyone or show it to your 1st connections, 1st and 2nd connections, or everyone on the platform.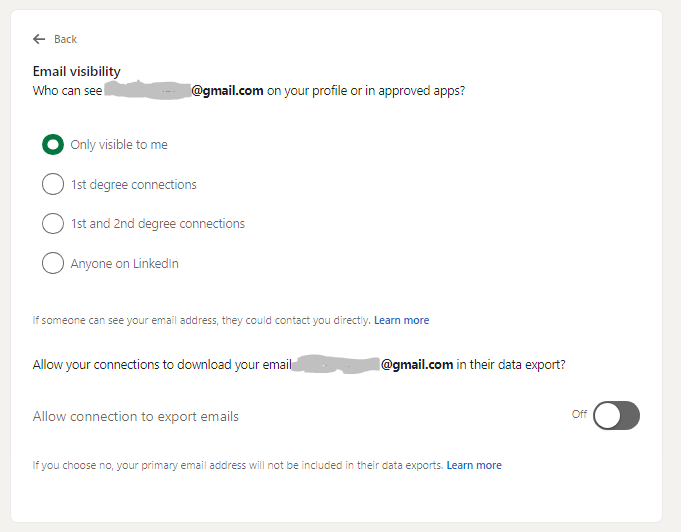 Also, you can restrict your connections from exporting your mailing address in their data exports.
FAQs
How do I change my primary email address on LinkedIn?
Use the following method to change your primary mail:
Me >> Settings & Privacy >> Sign in & Security >> Email Address >> Add Email Address >> Make it Primary
What happens when you add an additional email account in outlook LinkedIn?
You can use the additional account for logging into your profile or retrieving your forgotten password.
How to find email addresses on LinkedIn Profiles?
To find out what is the LinkedIn email address of another member, click on the Contact Info under his name and headline on the profile dashboard. A pop-up box will show the LinkedIn profile URL, email address, phone number, location, and website link of the profile owner.
However, if the person has disabled visibility for these details, you won't be able to see them.
What is LinkedIn email address format?
LinkedIn worker emails are usually in the format: First name (first letter) + Second name@LinkedIn.com. For example, SKelvin@LinkedIn.com
Related: LinkedIn share link
Take Away- Is The Primary LinkedIn Email Address Change Possible?
To sum up, you can link another mailing ID to your profile and set it to the primary position. It will make the older mail a secondary mail.
It is a must-do process if you want to remove the older mail. Because you cannot remove a mailing ID if it is set as the primary mail.
But you can remove a secondary mail whenever you want. However, it is suggested that you keep multiple mailing addresses linked to your profile, as it ensures better security and backup.