When actively networking on LinkedIn, you may be bothered by frequent in-app and email notifications.
And as LinkedIn tells you who views your profile, your notification tab will be stacked if you stay active in professional groups. When you show up regularly, people are naturally curious about you!
To avoid disturbance, it's a wise move to turn off unimportant notifications like who viewed your ID.
Keep reading to find out how to change notification settings and how to avoid being noticed when you visit someone's else account:
Turn Off LinkedIn Profile View Notification- Is It Possible?
LinkedIn notification settings do not include an option to switch profile view notifications.
However, you can still manage the notifications for search appearance views.
Log in and open the drop down from Me button.
Select Settings & Privacy to open the profile settings panel.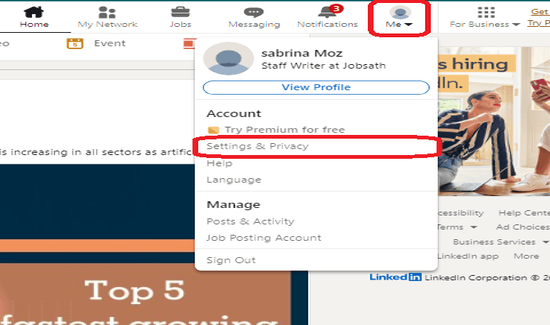 Go to the Notifications tab. (It's the last one on the list)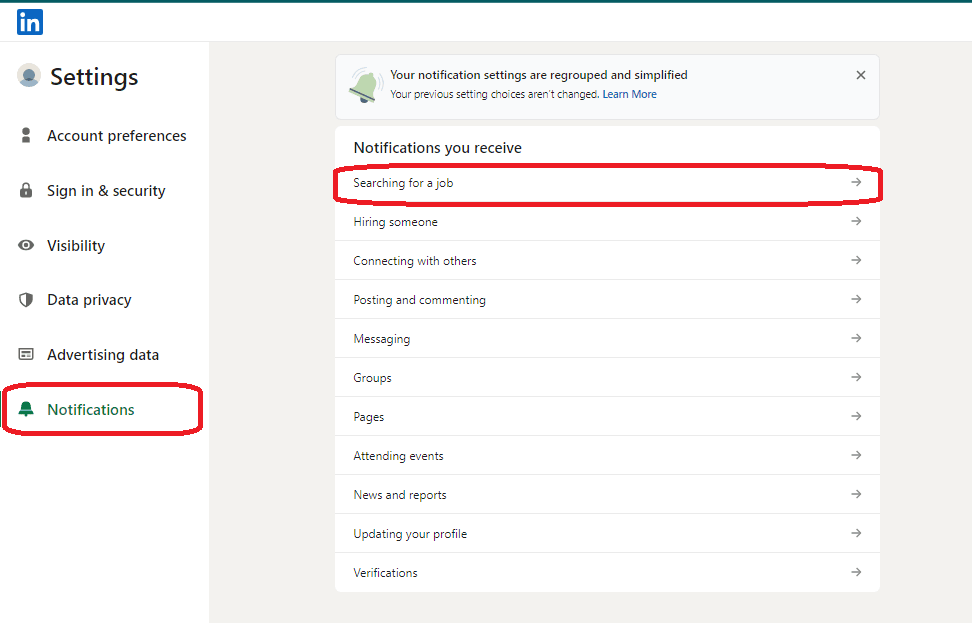 Click on Searching for a Job and then opt for Search Appearances.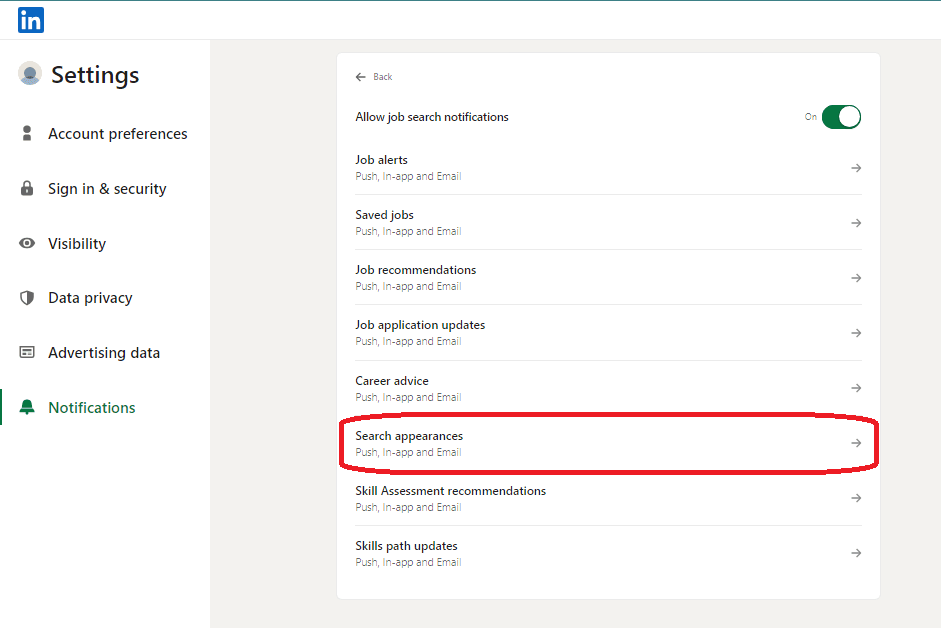 Toggle In-app and email notifications to "Off."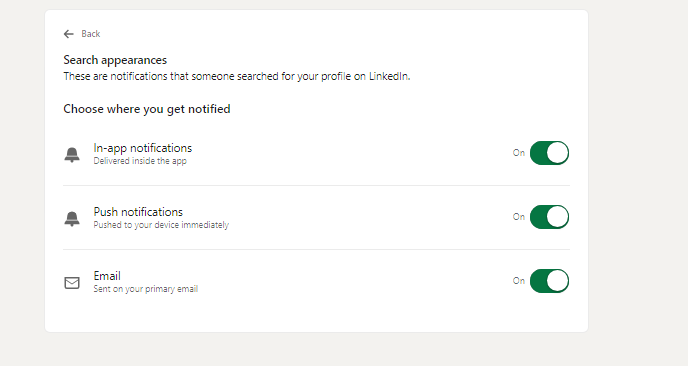 By turning off this setting, you won't receive notifications when someone views your ID from their search result.
However, you can still view who has visited your account, as explained in the next section:
LinkedIn How To View Who Viewed Your Profile?
LinkedIn provides 2 ways to track your profile visitors:
1. From Your Account Dashboard
Click your photo icon (aka. The Me button) on top bar to open a drop down menu.
Open your account dashboard by clicking on View profile from the drop-down.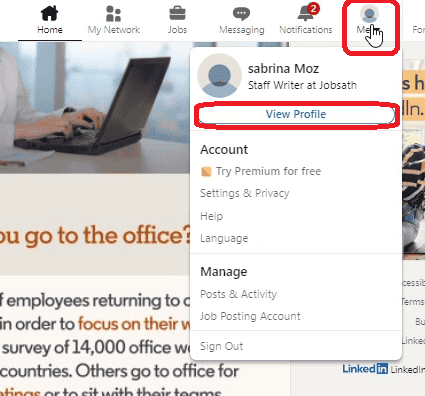 Your professional profile aka. Your online CV will open. Now, if you scroll down, you will see an Analytics Section that's private to you and does not show up when someone else visits your ID.
It tells the number of profile views and post impressions you had in the last 90 days. Also, it shows how many times your name has appeared in search results during the last 3 months.
2. From News Feed
You can also approach these statistics from the News feed page.
Find how many people visited your ID or found your posts just below your name and picture on the top-left corner of the page.
Can LinkedIn Premium Users See Who Views Their Profile?
LinkedIn tells who viewed your profile to all members. However, with paid options, you get extensive options to monitor your account visitors.
Free account users can only view visitor data for 5 members if they viewed your dashboard in the past 90 days.
Premium members can see data of all visitors from the last 3 months (except for those who use private mode settings)
Business LinkedIn users have access to all visitors' data (private mode users excluded) from the last 365 days
Here the important point is that even business and premium users cannot see the picture or name of people if the viewer has set the private profile characteristics mode or private mode in the visibility settings.
So, the private mode option is the secret to pure private browsing on this social network.
How To View Profile LinkedIn In Private Mode?
You get 3 browsing visibility options on LinkedIn
The first of the profile viewing options is the name and headline. In this mode, LinkedIn tells people the complete viewer history.
When browsing others' content in private profile characteristics mode, your name and picture won't be visible to them
By profile viewing in private mode, the account owner would not be able to extract any information about you or your profession or organization, even if he has a premium account.
Here is the complete method to approach and manage these settings:
Go to Me button at the top bar.
Choose Settings & Privacy.
Open the Visibility settings tab.
Click on the Profile Viewing Options to change your profile viewing status from public to private.
Here, you get the 3 options as explained above; choose Private mode if you want to visit others' IDs without telling them that you checked on their content.
How To View Your LinkedIn Profile As A Connection?
You can use the public visibility section to view how your content and details are viewed by others.
You can open public profile settings in various ways:
From news feed: Me button >> Settings & Privacy >>Visibility >> Edit your public profile
From the dashboard: To see how your dashboard appears to others, click on the pencil icon in the upper right corner.
Another way is to directly open this link: https://www.linkedin.com/public-profile/settings
On the Settings page, the right side contains different settings options, while the left side shows how your profile looks to others.
Does LinkedIn Show Who Viewed Your Profile Without An Account?
No, LinkedIn only knows the identity of people who have signed up on this platform. This means you cannot grab information about your visitors when they view LinkedIn without account.
But how to stop it?
While public visibility is generally good for your brand marketing and reaching a huge audience, you may want to avoid random people looking into your content to prevent content replication, idea theft, and spam.
Nonetheless, for whatever reason, if you want to turn off view profile LinkedIn, check out this blog to learn how to control who can see like on my profile. 
What Is Viewer History On LinkedIn?
The viewer history is the record of individuals who visited your professional dashboard.
It includes their names or other professional characteristics like job titles, organization or industry, and location.
FAQS: LinkedIn Profile View Notification
How to view who viewed your LinkedIn profile without premium?
With a premium account, you can see up to 5 persons who have recently viewed your ID.
Read the complete blog post on Who viewed your profile for step by step method.
How to view LinkedIn profiles in private mode?
To browse others' data anonymously, go to visibility options from the account settings panel and choose Private mode.
How to view LinkedIn profile without account?
You can get a sneak peek into other's IDs if you know their LinkedIn profile URLs and they have set public visibility "On."
You can also find their LinkedIn URL by searching for their name on Google, Bing, or other search engines.
But if someone has turned off public visibility, you won't be able to view the content they have posted on this professional networking platform.
Does LinkedIn show who viewed your profile?
Yes, who viewed your profile section on LinkedIn enlists visitors' records for the last 90 days. Premium members have unlimited access to this history. But with a free account, you can only see the details of 5 visitors.
However, if the visitor has private mode on, you will just know that someone visited your ID but won't be able to extract any data on who they are or where they work.
Can you see who views your LinkedIn if they don't have an account?
No, if the visitor doesn't have an account, you won't be able to check their identity.
What counts as a profile view on LinkedIn?
A profile view is when people view profiles of other members exclusively.
Take Away
Managing View Profile LinkedIn settings can help you avoid too many notifications. Turn off irrelevant notifications to conserve your time and energy.
Conversely, these settings can help you stay informed when looking for a new job or want to connect with more like-minded professionals. With timely notifications, you can approach the people who recently engaged with your content and visited your professional dashboard.
This way staying notified of your profile visitors, you get better networking opportunities.
Also, your visitor's data provides key insights about your target audience. You can optimize your dashboard according to their specific interest and see how many of the potential clients get attracted to it.