This blog post is all about how to unsend a connection request on LinkedIn.
You will find a step-by-step guide on deleting pending invitations and why it is necessary to protect your LinkedIn account from harm.
First, let's find out how and where you can check LinkedIn pending requests:
Related: How to Remove Previous Resume from LinkedIn
How To See Pending Connection Requests On LinkedIn?
Following step-by-step method will help learn cancel pending linkedin requests:
Go to the My Network tab from the upper tab bar.
Here, you will find the connection requests and page invitations. Click on Manage at the top left of the invitation section.

The Manage Invitations page will open. Click on Sent to view pending connection requests.
Here, you can see your pending connection requests and invitations to follow LinkedIn pages and events.
How To Take Back A Connection Request On LinkedIn?
The following procedure describes how to unrequest someone on LinkedIn:
Open unserved invitations and connection requests as described in the above section:
My Network >> Manage Invitations >> Sent
Click on the Withdraw button beside the profile name of whom you don't want to connect anymore.
To confirm, click on Withdraw from the popped up box and revoke LinkedIn request.
What Happen To Withdraw Pending Invitations In LinkedIn?
LinkedIn request refund is a silent process because:
No notification will be sent to the invitation receivers about your withdrawal.
However, they will stop receiving email reminders for your pending request.
Besides that, you cannot resend a connection request to the same person for the next 3 weeks.
Related: How to Delete Media from LinkedIn
Importance Of Clearing Your Pending Connection Requests
Many people often forget about the connection request they have made.
Also, it takes much time and effort to cancel pending invite LinkedIn if your unanswered invitations list is long.
So, if you are a busy professional, you may ask why does it matter to clean your pending connection requests. Is it really worth putting an effort in?
Yes, it is!
Why? Because if your pending invitation stack is too large, you can face the following issues:
1. Your Profile Can Be Restricted
If you send too many connection requests, your activity becomes suspicious. As a result, you are often considered as spam.
LinkedIn does not specify the maximum number of connection requests allowed. But they do say that sending too many invitations in a short period would lead to networking restrictions.
And according to LinkedIn Help, the chances of restriction are even higher when:
Your invitations are constantly ignored (i.e. remain pending for a long time)
or your LinkedIn requests denied and are marked as spam by the receivers
One way they make sending invitations difficult for you is by asking for your email address every time you send a connection request.
Also, LinkedIn can prevent you from sending more connection requests, as discussed in this Quora thread.
Eventually, you must remove pending connection LinkedIn to make room for new invitations and connections.
2. The More You Delay, The Larger Is The Unanswered Pile
If a person has not responded to your invitation for many weeks, it's unlikely that they will do that in the future.
Eventually, if you delay deleting unanswered invites, the list will grow longer and longer as you keep networking. In turn, it would take more time and effort to clear up the "pending list."
As there's no bulk unsend invite Linkedin option, you will have to remove LinkedIn request manually, and it might take hours if your pile is just too large!
Yes, you may use some LinkedIn auto invitation withdrawer software or extensions. But 3rd party involvement has its own risks as well.
3. Even LinkedIn Support Cannot Help You With Restrictions
Once a restriction is implemented, there's no way to revert it before the specified time.
According to LinkedIn support, even they cannot disable invitation restrictions. Neither can you buy extra connection requests.
Also, invitation restriction rules apply equally to both free and premium accounts. So, even the paid subscriptions won't help you restore the networking capacity of a restricted account.
4. Unanswered Invitations Are Of No Use
Another reason to withdraw pending requests LinkedIn is that unanswered invitations don't serve you.
It's quite impractical to hope that individuals who didn't even bother to accept your connection request will turn into a business lead or a customer.
When To Withdraw Pending Invitations LinkedIn?
If you invited someone many months ago and they still have not accepted your request, it hints at two things:
They are not active on this platform and haven't yet viewed your request.
They do not want to get in touch with you.
Either way, you will get no benefit from them regarding LinkedIn networking. So, it's better to withdraw your request and cut clutter from your profile.
Generally speaking, awaiting an invitation response for 2-3 weeks is enough. And you should cancel pending LinkedIn connection requests after that time, as it clearly show disinterest or inactivity.
To keep your pending requests list short and easily manageable, it's best to do an invitation clean-up at least once every month.
This is especially necessary when you are openly networking and sending a lot of connection requests.
Instead of sending connection requests to a lot of unknown random people, the better networking option is to make connections gradually and focus on building a stronger bond with other professionals instead of just increasing the number of your LinkedIn connections.
To do so, first, you should interact with a few professionals you are inspired by in groups and their public posts.
You become a valuable human resource for other professionals when:
you share your opinion about their content
ask for their advice
and participate in activities they are hosting
Then, when you send them a connection request along with a personalized message, chances are high that your request will be immediately accepted.
How To Remove LinkedIn Invitation Restriction?
The number one thing you can do is to delete pending connections on LinkedIn to prevent invitation restrictions.
But if your account is already being restricted, it's not enough only to withdraw LinkedIn request. You must wait till the restriction time is over.
This limitation is usually short-lived and your ability to send connection invites restores in a few hours to a few days. According to LinkedIn Help,
If your account is restricted for the first time, the issue will likely be resolved within a few hours.
If you are facing invitation restrictions repeatedly, you will need to wait for a few days.
Related: How to Delete Old LinkedIn Account Without Password or Email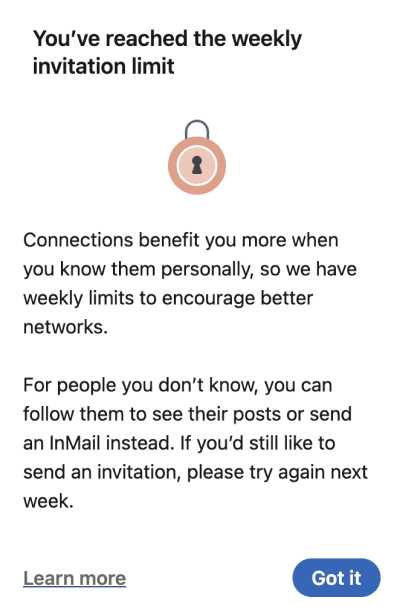 If you don't reduce the size of the pending invitation list, you may have to wait up to a month before sending another invitation.
That's why it is recommended that you reduce the number of unsettled invitations as soon as possible.
LinkedIn Remove Connection Vs Block Vs Pending Invitations
● Connection Removal
People often remove some connections if they reach the connection limit or those connections are no longer relevant to them.
After removing a person from your connection list, their posts and comments and other LinkedIn activities do not come in your LinkedIn newsfeed.
You can accept and send an invitation to reconnect to a person you have removed previously and your interaction is not highly restricted as you two can continue talking via LinkedIn messenger.
● Blocking A LinkedIn Member
Blocking the connection entirely disconnects you from the blocked user; they won't be able to access your profile, engage with the content you upload, or send you messages.
It is a better choice when someone is trying to breach your privacy or bully you.
But whether you remove or block a connection, your mutual endorsements or recommendations are removed and cannot be restored if you decide to reconnect or unblock that user.
● A Pending Invitation
A pending invitation is when you send a connection request to a member but they have not responded to that. So, it remains pending on LinkedIn.
If your invitation has been on the waiting list for a long time, you should unsend LinkedIn request because that person doesn't seem interested in your invitation.
| | | | |
| --- | --- | --- | --- |
| | Connection removed | Blocked users | Pending request |
| Prior connection status | Connected previously | May or may not be connected previously | No prior connection, no response to connect invitation |
| Profile Access | Public profile only | Public profile only (profile discovery is limited though) | Public profile only |
| Messaging | Possible | Disabled | Only InMail messages are possible |
| They will find you in search Results | Yes | No | Yes |
LinkedIn remove connection vs block and LinkedIn pending connections
Is It Bad To Have Too Many Connections On LinkedIn?
Whether you gain more benefits growing LinkedIn network or not varies a lot with your goals and the strategies you employ to achieve those goals.
For example, if you are a software engineer looking for new job opportunities, adding people from different fields such as bank accountants, sales managers, and land merchants, is less likely to support your career advancement.
However, if you connect and engage with experts from your industry, it can surely help you find your next job.
In essence, your objectives determine whether growing LinkedIn network provides you with more value or the entirely opposite.
Here are a few tips to make connections on LinkedIn for effective networking and landing exciting jobs:
● Plan Out Your Networking Strategy
Instead of sending invites to a large number of people, the better approach is to craft a networking plan first.
While planning specifies whom to approach and whom to reject.
Such planning will also help you decide whether to cancel LinkedIn request or wait for some more time.
● Connect With Targeted Individuals
Connecting with a wide range of people is favorable for marketing and selling to a large, relatively randomized audience.
Still, you have to set the boundaries somewhere, as mostly, you will need a specific audience to pitch for your product or services.
That's why you must focus on a targeted chunk of the population having certain characteristics.
● Stay In Touch With Your Connections
Communication is vital for getting clients.
If you have successfully added potential customers to your LinkedIn network but do not engage with their content or talk to them, only having them on your connection list is practically useless.
The solution is to build a small network, but don't leave it unchecked for a long duration.
Making fewer connections but keeping a consistent interaction with these people makes you more valuable.
Focusing on your relationship with a few knowledgeable and productive people whose content can help you expand and polish your skills is better than randomized open networking.
Furthermore, a small network is easily manageable. So, you won't need to spend a lot of time on LinkedIn management.
Why Would Someone Disconnect On LinkedIn?
Sometimes it becomes necessary to disconnect people to get rid of fatigue created due to their activities, while other times, your connection is not worth your time.
The main reasons for making a disconnection on LinkedIn are
1. Due To Lack Of Interaction
You may have a lot of unknown connections, but you didn't have any conversations with them.
A connection without any interaction is not worth staying with.
Fruitful connections are only those from which you get value by interacting with personally or at least engaging with their content.
Also, interaction is a must-have to secure deals with potential customers.
2. To Stop Spamming Or Bullying Activities
You may come across annoying people or spammers on any social media platform, so LinkedIn is no exception. These people drain your energy along with destroying your time.
When you get unnecessary messages or comments, or if someone tries to harass you, it's time to block them or sign them off from your network.
3. To Avoid Comparison Anxiety
Most people post only the good side of their lives on social media.
So, 90% of the time you will only see the bright side of someone's professional journey on their LinkedIn profile and not their struggling phase.
Sometimes it becomes quite overwhelming when you see your colleagues or friends posting stuff about their success and achievements.
You may start making comparisons of your career with theirs, and it leads you to anxiety or stress.
This is not jealousy but comparison anxiety which is a totally normal psychological response. It's ok!
But you must stop interacting with such content to restore your peace of mind. Delete connection on LinkedIn to let the stress go away.
4. To Remove Irrelevant Connections
As said earlier, you must be strategic and follow a plan while building your network otherwise ability connect widely leads to a messy network.
If you have been a LION previously, you may have added plenty of unnecessary connections that are not relevant to your product or in case your finding job opportunities, not relevant to your field.
Also, some connections can become irrelevant because they have made a career shift and their new content is no longer relevant to you.
Disconnecting with such irrelevant people will clean linkedin account, making it more reliable and easy to handle
Is There A Limit On LinkedIn Connections?
LinkedIn connections upper limit is 30,000. Once you reach this limit, you cannot send or receive connection requests anymore.
Then, the Follow option becomes automatically activated on your LinkedIn profile which helps you to continuously grow your LinkedIn audience.
Limitations LinkedIn connections are good as it makes the platform a more trustable place.
Due to the limit on possessing connections, LinkedIn advises its users to make connections only with those people whom they know personally or have a professional connection with. And, Follow all other users whose content you want to see.
Fortunately, there is no limit to following, you can follow unlimited accounts.
How To Remove Connections On LinkedIn In Bulk?
Bulk remove LinkedIn connections is not officially possible. Rather, you have to rely on 3rd party apps for automatic unrequest in bulk.
So, what to do when you need to remove LinkedIn connections in bulk?
If you sent a request and the receiver accepted it. But now, you no longer want to get in touch with them, you can delete the connection from your first-degree connections list.
But like the withdrawal LinkedIn request, you will have to do the connection removal one by one manually as there's no official option for bulk removal.
However, Some people use 3rd part extensions to delete less important connections automatically.
FAQ
Can you remove LinkedIn connections without them knowing?
Yes. If you remove a connection or undo connection request, they won't know it unless they look for your profile in their connections list.
LinkedIn does not send connection removal notifications. But your mutual endorsements and recommendations are withdrawn when you remove a connection.
So, If the person on the other side is vigilant about his profile outlook, he will get a hint about connection removal.
How to cancel connect request in LinkedIn app?
Unlike some other features like adding media on LinkedIn, withdrawing invitations is possible from both the LinkedIn mobile application and the website.
Go to the My Network tab and remove pending connections on LinkedIn mobile application as described above in the article.
My Network >> Manage Invitations >> Sent >> Withdraw
How to unrequest someone on Linkedin?
Go to invitation management settings and cancel connection request from the person you no longer want to connect with on LinkedIn.
What's the LinkedIn difference between blocking and removing connections?
When you remove a connection, the content they post or share will no longer be shown in your feed. But you and the removed members will still be able to visit and see each others' profiles. You can also contact your older connections via message and send them a connection request again.
In contrast, blocked profiles are hidden from each other, and none of you can interact with the other person in any way.
Can you have too many LinkedIn connections?
No, Linkedin does not en able add connections beyond a limit.
If you hit the boundary line, LinkedIn replace the Connect option with the Follow button on your profile automatically.
Now, you can't add any connections unless you remove some old connections, but you are able follow people so you can see their content.
If you don't want to follow, you can remove multiple connections on LinkedIn.
How many LinkedIn maximum connections per day are possible?
The number of connection request LinkedIn you are allowed to send daily is not officially specified.
How many connection requests can I send on LinkedIn Premium?
There is no difference in making connection requests while using Basic or LinkedIn Premium.
Plus, LinkedIn has not specified the maximum connection requests allowed in a certain time. They emphasize on not sending too many invitations within a short period of time but have not specified the exact number.
Does LinkedIn tell you when you remove a connection?
LinkedIn does not notify you or the person you are removing when delete a connection.
By clicking remove connection from the three dots in front of the connection, a pop-up is shown for confirmation.
However, after confirmation, the process ends without any further notification.
Wrap Up-Cancel LinkedIn Invitations To Prevent Hassle
You can build relationships with people around the globe using LinkedIn.
But your connection requests will not always be welcome. Instead, some people, especially those you don't know, will ignore your invitations. Some might also consider it spam.
So, the invitations remain pending and can restrict you from sending new invitations if the list grows too large.
To prevent this hassle, you should do 2 things:
One, interact with people you don't know but are inspired by. When you engage with their content and have a conversation, you will build a relationship. So, the chances of unserved invitations will decrease.
And secondly, undo LinkedIn requests that are not yet accepted routinely to avoid restrictions.
External Sources
https://www.linkedin.com/help/linkedin/answer/a551012